Transitioning from Microsoft Exchange Server 2010
Microsoft Exchange 2010 is one of the most popular and utilized email and calendar servers amongst businesses. Since its release in 2010, it has had rapid international adoption and it has become an essential enterprise tool for sending emails and utilizing calendar servers to set up meetings and plan out business days. Although many companies have become accustomed to Exchange 2010 by now, it is coming to a screeching halt in less than a year. If your organization is not proactive about transitioning away from Exchange 2010 before 2020, the consequences can be extremely costly.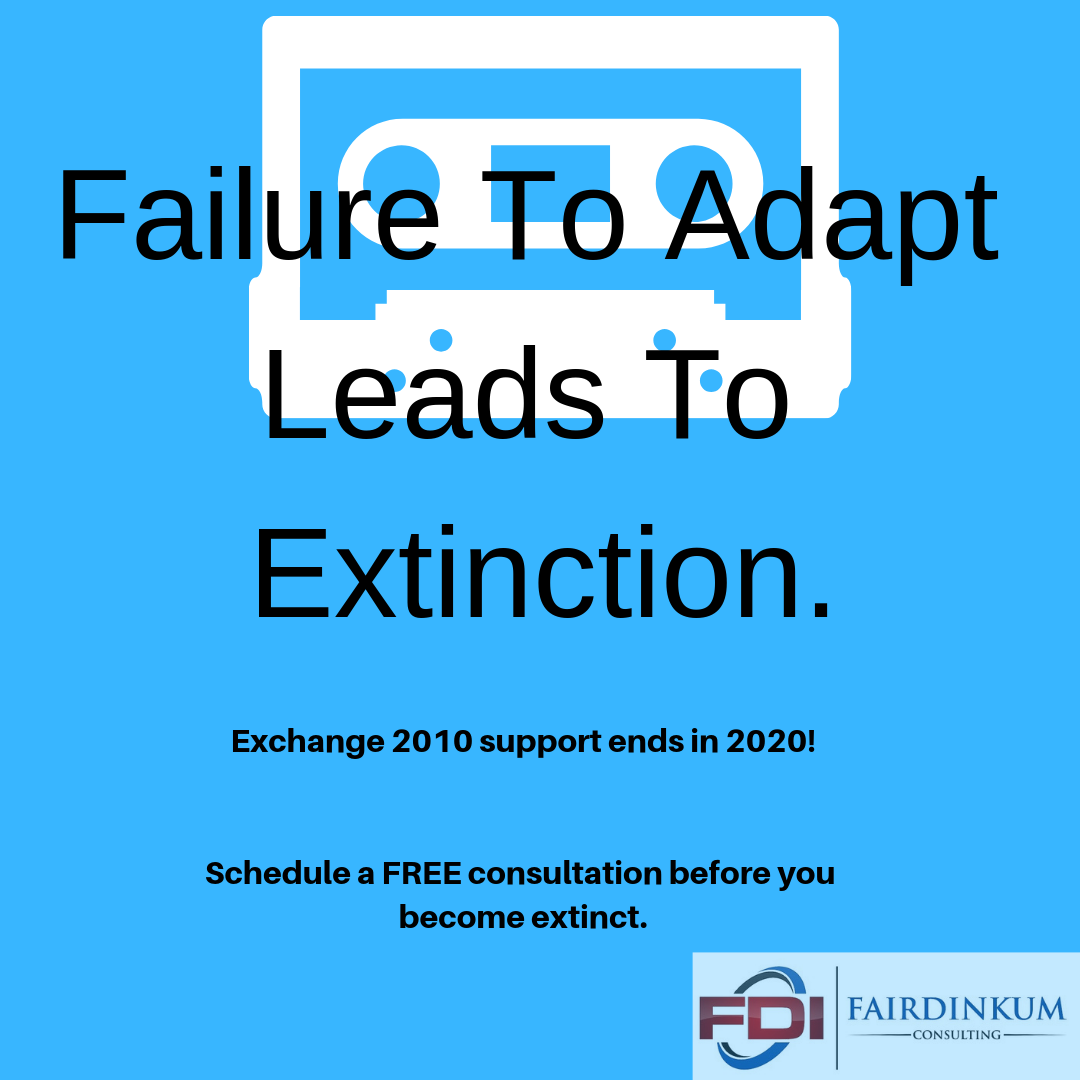 Microsoft announced that it will end all support for Exchange Server 2010 on January, 14 2020.  This announcement can entail several complications for your organization if you do not migrate from Exchange 2010 before this date. First, Microsoft will not provide any support for any problems that may occur; this means that if you were to contact Microsoft support regarding any issue regarding Exchange 2010, you will not be assisted. Additionally, Microsoft will not provide any bug fixes to Exchange 2010 after January, 14 2020. After this date, Microsoft will not have any software updates to fix any bugs within the Exchange 2010 server. This may affect the usability and/or stability of the Exchange 2010 server altogether. The most important consequence of microsoft ending support to exchange 2010 is that Microsoft will not address security vulnerabilities within the Exchange 2010 server. This is dangerous for your organization because if you continue to use Exchange 2010 past this date, you are compromising your organization's data and risking loss and theft of data. This basically means that your organization is solely responsible for any loss or theft of data after Microsoft ends support for Exchange 2010.
With less than a year left until Microsoft stops supporting Exchange 2010, it will pay to be proactive. There are several options to make your transition from Exchange 2010 as seamless as possible. The easiest and Microsoft-recommended option is to migrate to Office 365. This can be done by a few types of migration processes: cutover, express and full hybrid migration. These processes are recommended based upon organization size and how long it will take to migrate your Exchange 2010 data. If your organization has over 150 employees, it is recommended to perform the full hybrid migration to Office 365. If your organization has fewer than 150 employees, you can do the cutover or express migration. Whether you choose cutover, express or full-hybrid migration, the process to migrate your data can take multiple months; if your organization hasn't planned your data migration, you are risking losing or comprising your organization's data! Regardless of your organization's size, it is vital for your migration to Office 365 to be initiated way before the deadline for Exchange 2010 to make your transition as smooth as possible. The time to start your migration is now! If you would like more information on how to protect your Exchange 2010 data and make your transition as easy as possible, click here or feel free to call Fairdinkum Consulting at  212-624-3200 for a consultation.
Last Updated:
On March 28, 2019